After the first successful School Touch Football carnival ever held in Queensland on Sunday 9 October 1983, the Queensland Secondary Schools Touch Association was formed at a meeting of dedicated teachers, and the Queensland Touch Association in May 1984.
This body was the first school-based Touch organisation in Australia and as such began the coordinated development of the Sport at a junior level in Queensland.
The first executive included President, Ken Edwards, Secretary, Graham Herlihy, and Treasurer, Bill Kitchen. That first event in 1983 was given a name the, "All Schools". The intent of the name was an "open invitation" to any school, anywhere. That ethos continues today.
The first 'All Schools' event saw 34 teams competing in Open Boys and Girls divisions. Some of those early participants included, Ipswich (Open Girls winners), St Edmunds (Open Boys winners), Balmoral, Centenery Heights, Capalaba, Wynnum, Springwood, St Laurence's and All Hallows.
Interestingly, many future Australian and Queensland open touch representatives have played as school students throughout the years and Lynelle Hardy (Qld, NSW, and Australian Women's Open Player) captained Ipswich High girls to victory in the inaugural year of the competition.
In 1985, long time schools touch life members, Peter Bell and Ray Grieshaber took over the organisation of the event with Peter continuing uninterrupted, his service to the "All Schools" event for over 30 years. He is still the current Tournament Director.
The early Championships were run in only two divisions (Open Boys and Open Girls) and it was not until 1997 that two new divisions were included, namely the 15 years boys and 15 years girls. Subsequently two more divisions were included (Open Mixed and 13 years Mixed) in an effort to cater for as many groups as possible. More recently, 13 years Mixed was split into 13 years boys and 13 years girls provide further opportunities for greater participation.
NRL super star and Kiwi Rugby League captain Benji Marshall figured prominently in Keebra Park's Open Mixed final win in 2003.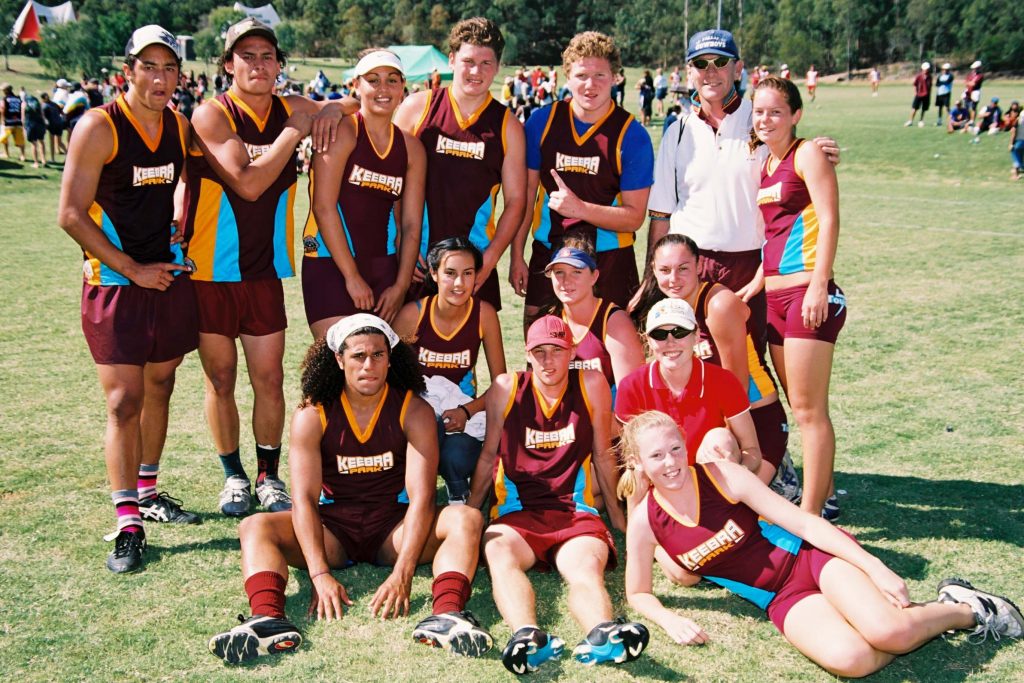 The All Schools has seen continual popularity and growth into the new Millennium and as of today, there are over 445 teams competing annually across the seven divisions, with over 6000 students participating. It is widely recognised as the largest touch football event of its kind anywhere in the world.
The event is endorsed by both Queensland Touch Football (QTF) and Touch Football Australia. QTF has a significant interest and commitment to the event and has been integral to the future proofing of this school sporting phenomenon.